What's up my fellow bakers?
I come today, bearing a wonderful gift: My Birthday Cake. This is the cake that my mom has made for most of my birthdays over the last 31 years. I am still trying to perfect the execution, but I'm getting better every time. LOL.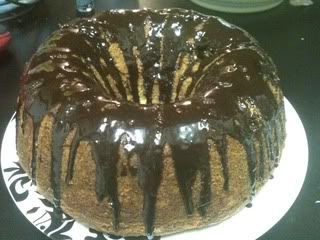 Doesn't it look tasty?
This cake is made with Pistachio Pudding! It's also kind of a weird green color, but trust me: It's delicious.
Here we go...
The ingredients:
1 white or yellow cake mix
1 pkg pistachio pudding mix
4 large eggs (I only had jumbo, but that's just fine)
1/2c orange juice (no pulp please)
1/4c water
1/2c vegetable oil
3/4c chocolate syrup
powdered sugar (or, if you don't have any like me, use chocolate frosting)
Combine the first 6 ingredients and mix well (I used my hand mixer for a couple minutes).
Then pour 1/2 - 2/3 of the batter into a prepared bundt pan.
Take the chocolate syrup and mix it into the remaining batter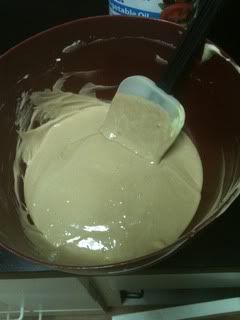 And pour it on top of the original batter. Don't mix it! Let the magic happen on its own.
Place in a 325 degree oven and bake for 45 - 50 minutes. When a toothpic comes out clean, let it cool in the pan, on the counter for an hour. Then you can turn it out.
When it's completely cool, dust with the powdered sugar. That's the traditional way. But since I didn't have any in the house, I took some frosting that's been in my fridge for about 2 months and melted it down. I drizzed about a 1/4c of chocolate frosting on top.
When you cut it open, you see the magic:
Truth be told, I was impatient and cut into the cake while it was slightly warm, so it was a bit crumbly. It's best if you make this early in the day so it's nice and cool by the time dessert rolls around. lol.
Hope you enjoy it as much as I do!!